< Back
FASHION & ACCESSORIES
SMYTHSON
Smythson represents over 130 years of British leather and stationery goods at their most refined, with a dedication to exquisite craftsmanship. Creating pieces that capture life's unfolding narrative, every Smythson piece is crafted to be a companion to a storied life, from its signature leather-bound notebooks and diaries to its collection of bags and travel accessories. The proud holder of two Royal Warrants, Smythson has a rather remarkable clientele both past and present, from European Royalty and the Indian Maharajas to the likes of Grace Kelly, Katharine Hepburn, Claudette Colbert, and Vivien Leigh.
SUSTAINABILITY PURPOSE
Smythson is fully aware of its responsibility towards its employees, supply chain partners, and customers, recognising the critically important role that its people play in the success of the business. Company-wide, Smythson is committed to achieving the highest quality standards, driving more sustainable outcomes, and minimising the environmental impact of its operations. Smythson works collaboratively with its long-standing supply chain partners while engaging with employees, stakeholders, and consumers to ensure best practices are maintained.
Categories
Leather bags and accessories, notebooks and diaries, stationery
A WORD FROM THE CREATIVE DIRECTOR
We are constantly looking at ways to reduce our impact on the environment. We are a small team and company, and doing things properly matters to all of us. We understand the value of looking after our people, with our highly skilled artisans crafting our diaries, books, and stationery from our own independent workshops. Being a fair and caring employer, while having a positive impact in the communities in which we operate, is incredibly important to Smythson.
LUC GOIDADIN
CREATIVE DIRECTOR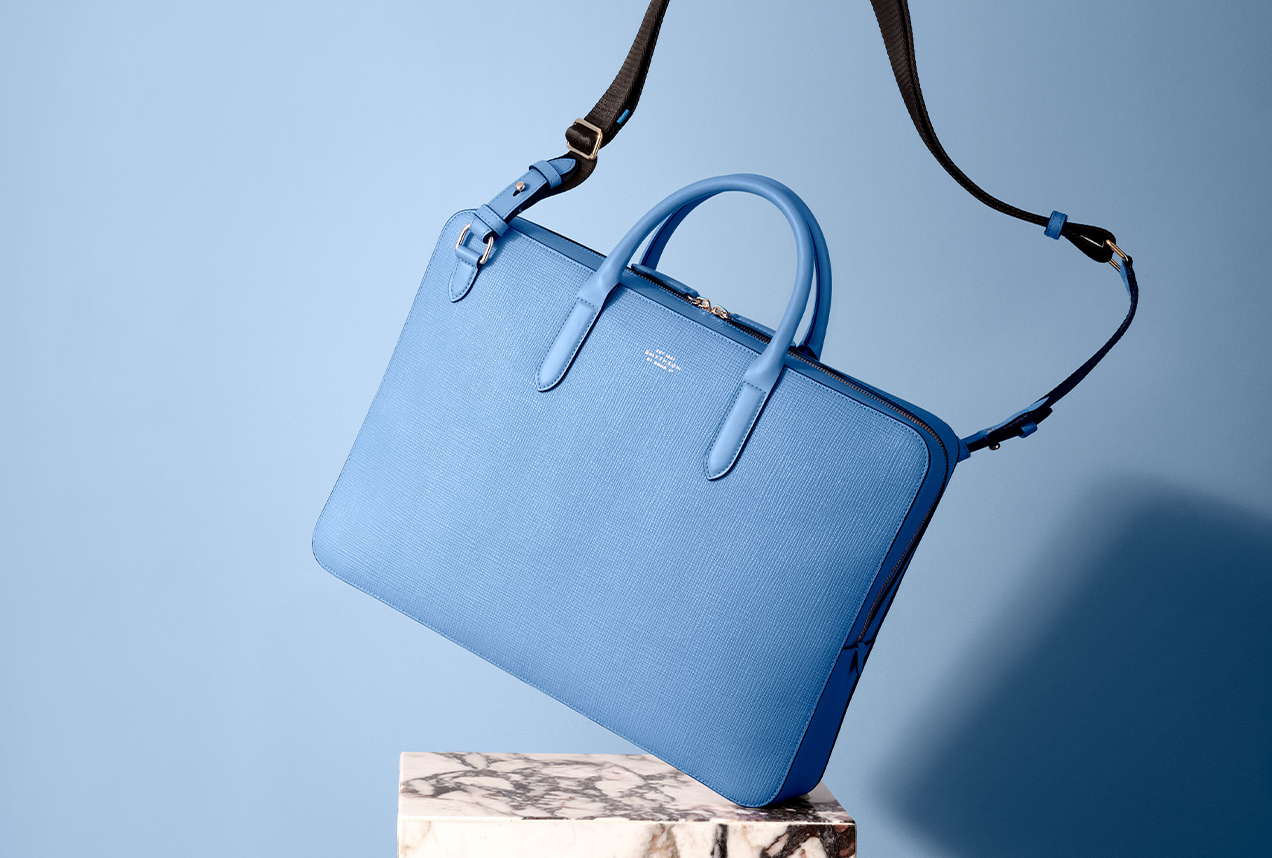 Case study
SUSTAINABLE PURPOSE
Smythson has proven a strong sustainability purpose with a focus on social and environmental wealth creation, driven by commitments aligned with the United Nations Sustainable Development Goals. Smythson has embedded its Sustainability Purpose across its workforce, stakeholders, and consumers. This purpose is present within its own company policies to ensure they run effectively with integrity, these include Code of Conduct, Human Rights, Equal Opportunities, and Sustainable Travel. Similar expectations extend to its suppliers meaning Smythson's supply chain is continuously monitored, including compliance with ethical working practices. Smythson believes in equal opportunities and values the importance of a diverse workplace with fair pay for all. Currently over 50% of its senior management team, including board members, are women.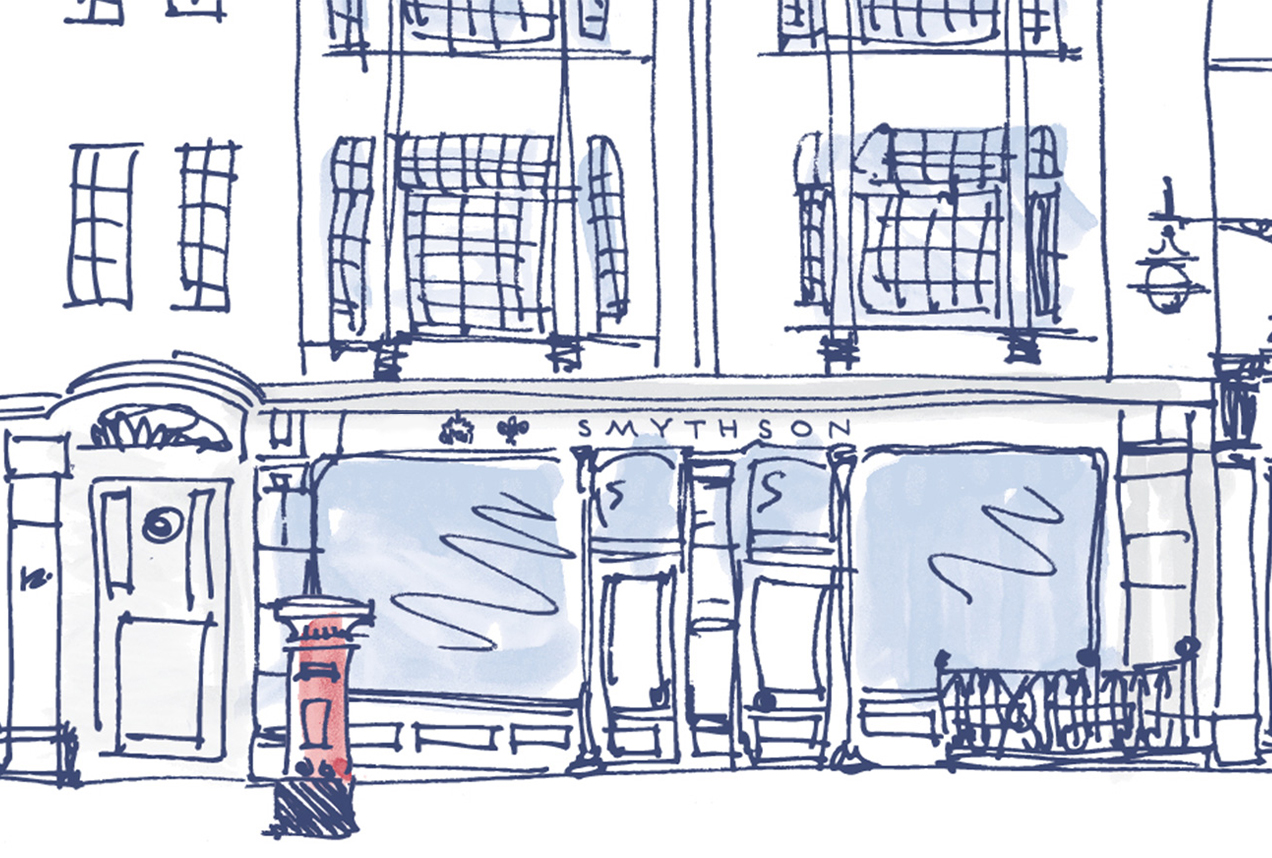 Case study
CLIMATE
Measuring and monitoring energy, waste, water, and carbon is an essential action for all businesses regardless of size or industry. Smythson has implemented a systematic approach by starting this journey collecting energy, water, and waste consumption data while conducting its first carbon assessment of Scope 1, 2 and 3 emissions from its own operations. Smythson has been measuring its carbon emissions since 2019 and has successfully reduced its Scope 1 and 2 emissions by 27% (2019 vs 2021). Smythson has also been measuring its Scope 3 emissions since 2019 and recently carried out a Life Cycle Assessment to strengthen its methodology. Establishing a second distribution hub in Italy for European and Rest of World orders, Smythson's logistics emissions have reduced as most European supplies and sales now remain within mainland Europe rather than being shipped back and forth.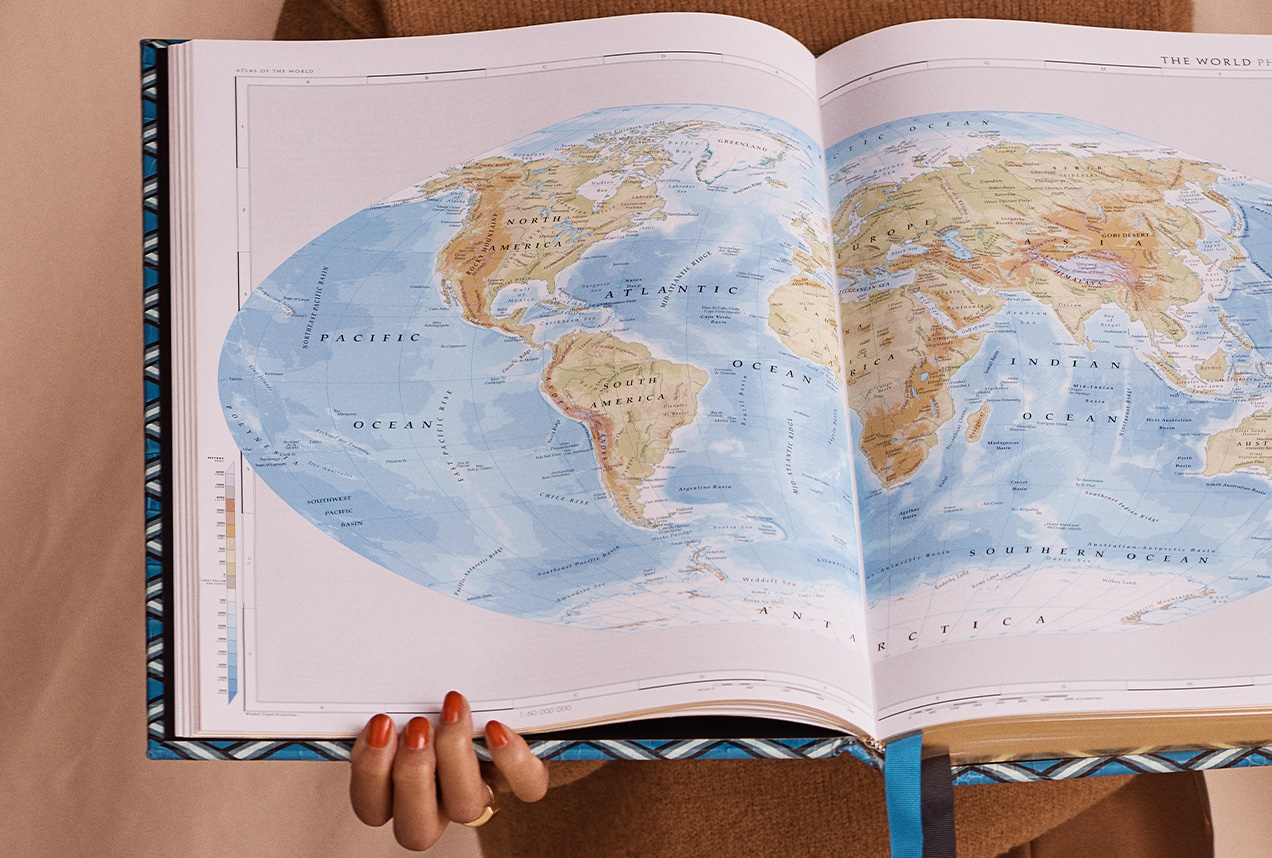 Case study
CIRCULAR ECONOMY
Smythson has incorporated circular economy principles into its business and end-of-life solutions, such as its refillable product range. Customers can purchase a variety of product refills ranging from paper stationery and notebook inserts to writing instruments. This provides customers with the opportunity to continue to use their Smythson products for the longevity they were made for, demonstrating the durability and long-lasting quality of Smythson's products. In terms of packaging, over 75% is made of recyclable or biodegradable materials and many of its suppliers comply with the requirements of ISO 14001:2015 and ISO 50001:2011.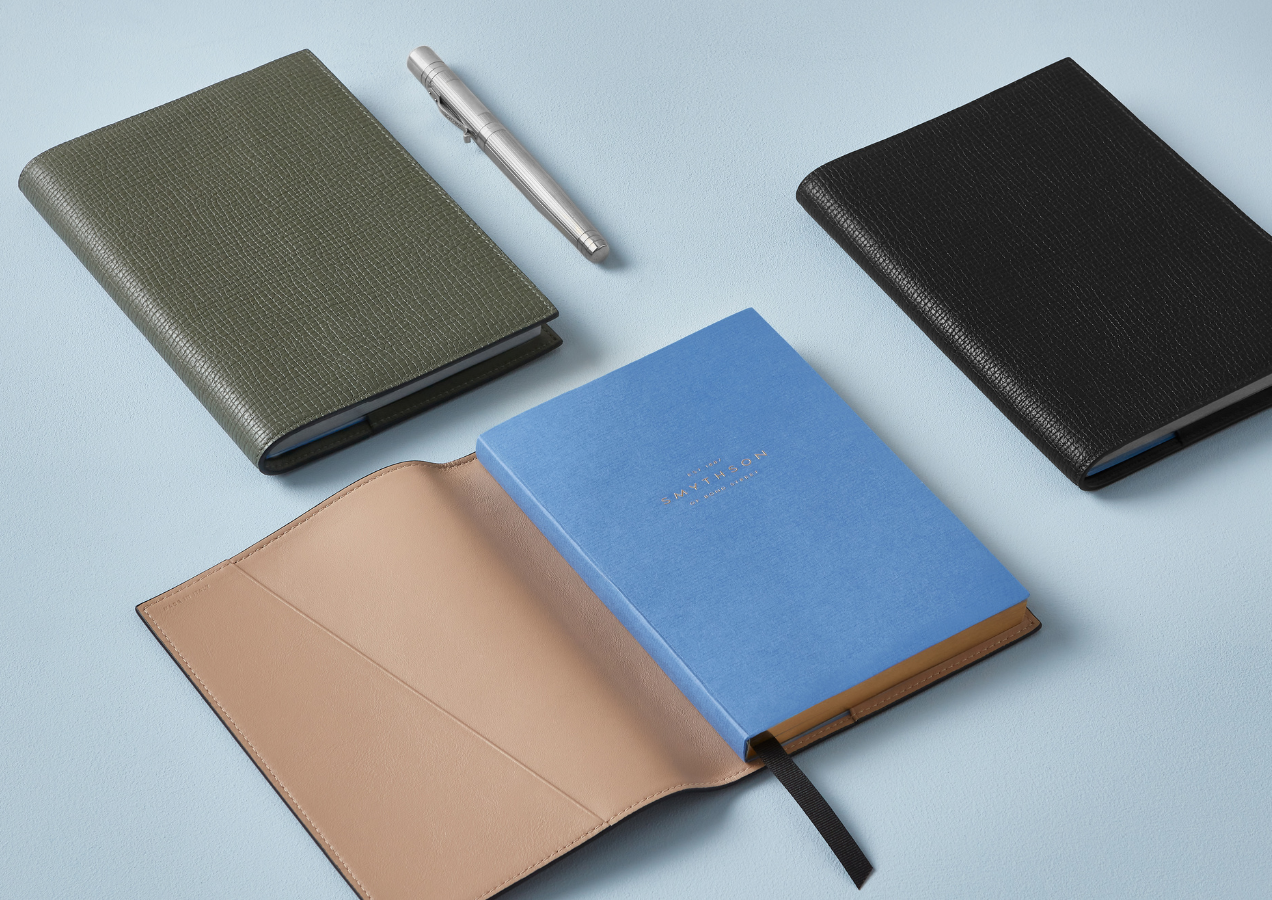 Case study
SUSTAINABLE SOURCING
Smythson ensures its leather products are sourced in the most responsible way by using Leather Working Group certified tanneries. The company also demonstrates a commitment to forest conservation by sourcing paper for its diaries, notebooks, and stationery from FSC and PEFC certified paper mills in England and Italy, while paper and card for its packaging is from FSC certified sources. Finally, 98% of the inks used for printing are water soluble and solvent free.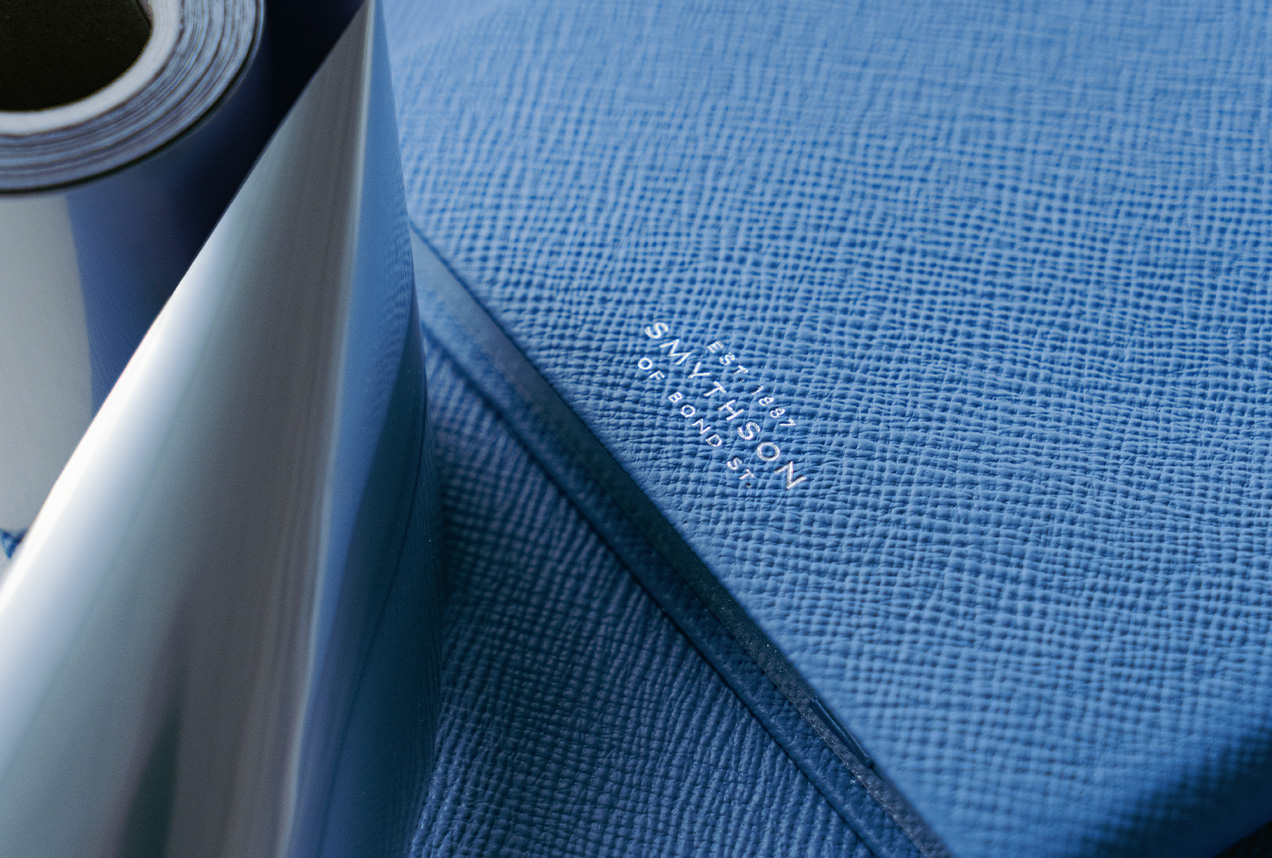 Case study
COMMUNITY INVOLVEMENT
Smythson is committed to finding ways to give back to communities. Partnering with the National Literacy Trust, a charity that gives disadvantaged children access to the literacy skills needed to succeed in life, Smythson committed to donating 5% of the sales from a range of its Christmas cards, demonstrating a mutual mission to support the importance of writing and literacy. Smythson is also working alongside the Royal Warrant Holders Association Charity Fund to make a large, combined donation which will enable the National Literacy Trust to recruit 10 Literacy Champion Volunteers in the Swindon area to increase access to literacy skills.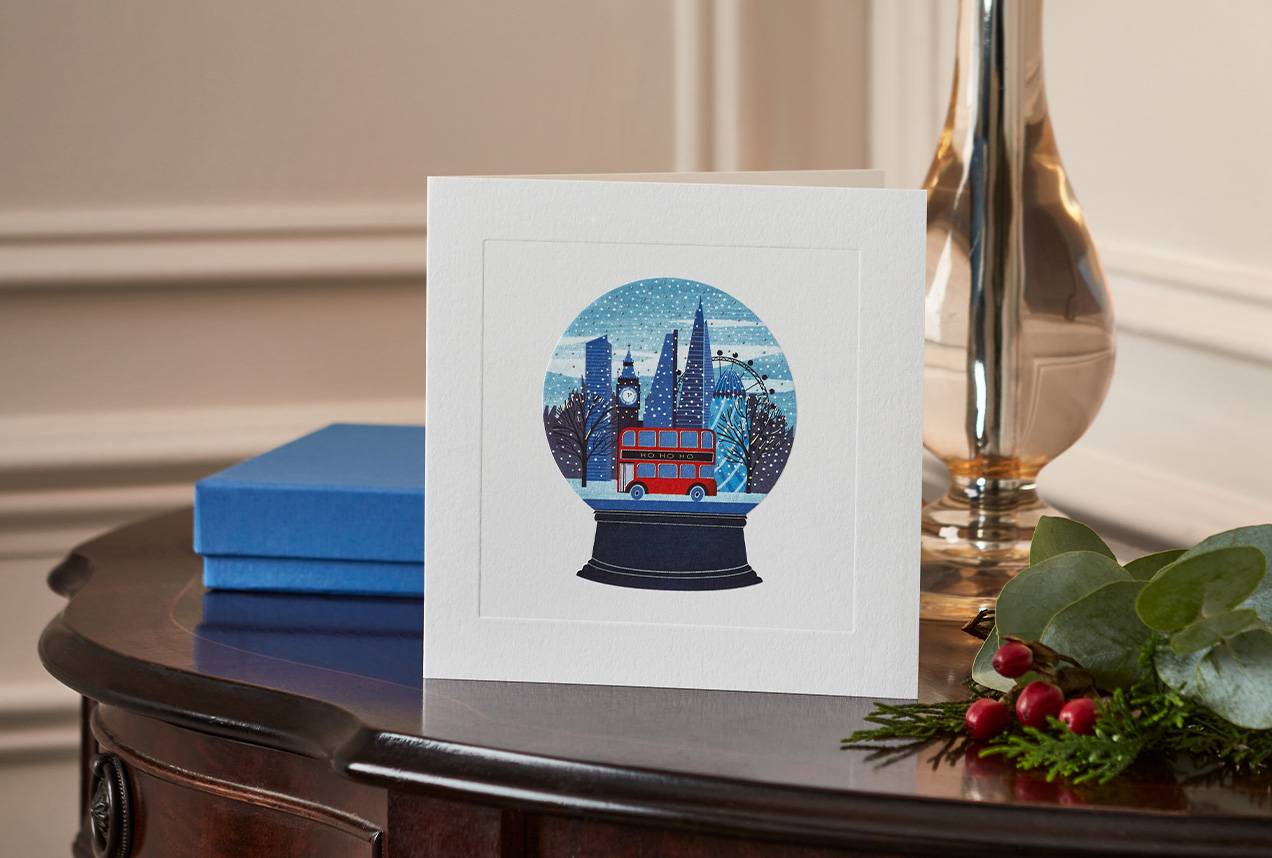 WHERE NEXT?
Smythson has been measuring its carbon emissions since 2019 and has successfully reduced its Scope 1 and 2 emissions by 27% (2019 vs 2021). Smythson has also been measuring its Scope 3 emissions since 2019 and recently carried out a Life Cycle Assessment to strengthen its methodology. While reducing emissions across its own operations (Scopes 1 and 2), Smythson recognises that more needs to be done to reduce them further. To do this, Smythson will reduce its energy usage from all owned and controlled buildings as well as increase its renewable electricity contracts. In addition, Smythson aims to reduce its Scope 3 emissions by collaborating with all stakeholders, including its small selection of vendors and suppliers within its supply chain. Reductions will be guided by its internal Resource Strategy and reduction targets to ensure its impact on the environment is continuously lessened.