< Back
FASHION & ACCESSORIES
PIPER & SKYE
Piper & Skye is an emerging luxury handbag brand, recognized as a leader in responsible luxury accessories. Their mission is to borrow from nature, sourcing raw materials with strict criterion relating to the biodiversity and regeneration of the ecosystems from which they come. Piper & Skye partners only with suppliers who align with their values of Respect, Responsibility, and Community. Piper & Skye's evening bags, shoulder bags, duffles, and clutches, are crafted by small independent artisans across North America, with complete focus on the people and planet so affected by today's world of crushing impacts from the fashion industry. Taking care of the communities which fish and tan their leathers, supporting local shelters in major cities across the continent, and nurturing their cherished supply chain and partners, this team of entrepreneurs is proud of the work they do. There is no question why their tagline is "we love what we're made of".
SUSTAINABILITY PURPOSE
Piper & Skye knows that sustainability for our planet is not a fad. It's a paradigm shift for the entire fashion industry. With every business decision, Piper & Skye reflects on its commitments to supporting its ESG initiatives in-line with its values of Respect, Responsibility, and Community. The brand works to ensure that it improves the environment and the local communities in which it operates. Piper & Skye has established ethical business practices and policies to propel the fashion industry towards higher accountability standards, as set-out in the UN Sustainable Development Goals. Piper & Skye takes action on these priorities through ethical sourcing strategies, strict materials selection criteria (invasive species or food by-product leathers such as pirarucu, invasive lionfish, invasive python and wild american alligator), reducing emissions and building circularity into its products and business model. Piper & Skye continues to work towards measuring and minimising both its own greenhouse gas emissions as well as that of their supply chain, supporting biodiversity conservation, focusing on regeneration of what nature has gifted us, and uplifting stakeholders along its value chain, such as the people and partners it works with.

Headquarters
Toronto, Canada
Categories
Luxury Handbags & Accessories
A WORD FROM THE FOUNDER
At Piper & Skye, We Love What We Are Made Of. We believe how a product is made, what it is made of, and the people who make it are just as important as the product itself. It is our mission, in line with our values of Respect, Responsibility, and Community, to create beautifully unique, luxury handbags, both ethically and sustainably. This includes our internal team, all vendors, suppliers, manufacturers, as well as partners and mentors. It has taken years of being in the business and growing our hand-picked network to have the confidence we have today to stand behind our material selections and alliances, not to mention the areas we focus much of our time on with regard to people and planet. We do the hard work because the hard work is the right work. Your confidence in us and what we are made of is what matters. We love that when you carry a Piper & Skye bag, you know you are supporting an emerging brand, local artisans, village communities, a brand that you trust, and making the world a better place for today and beyond.
JOANNA MACDONALD
FOUNDER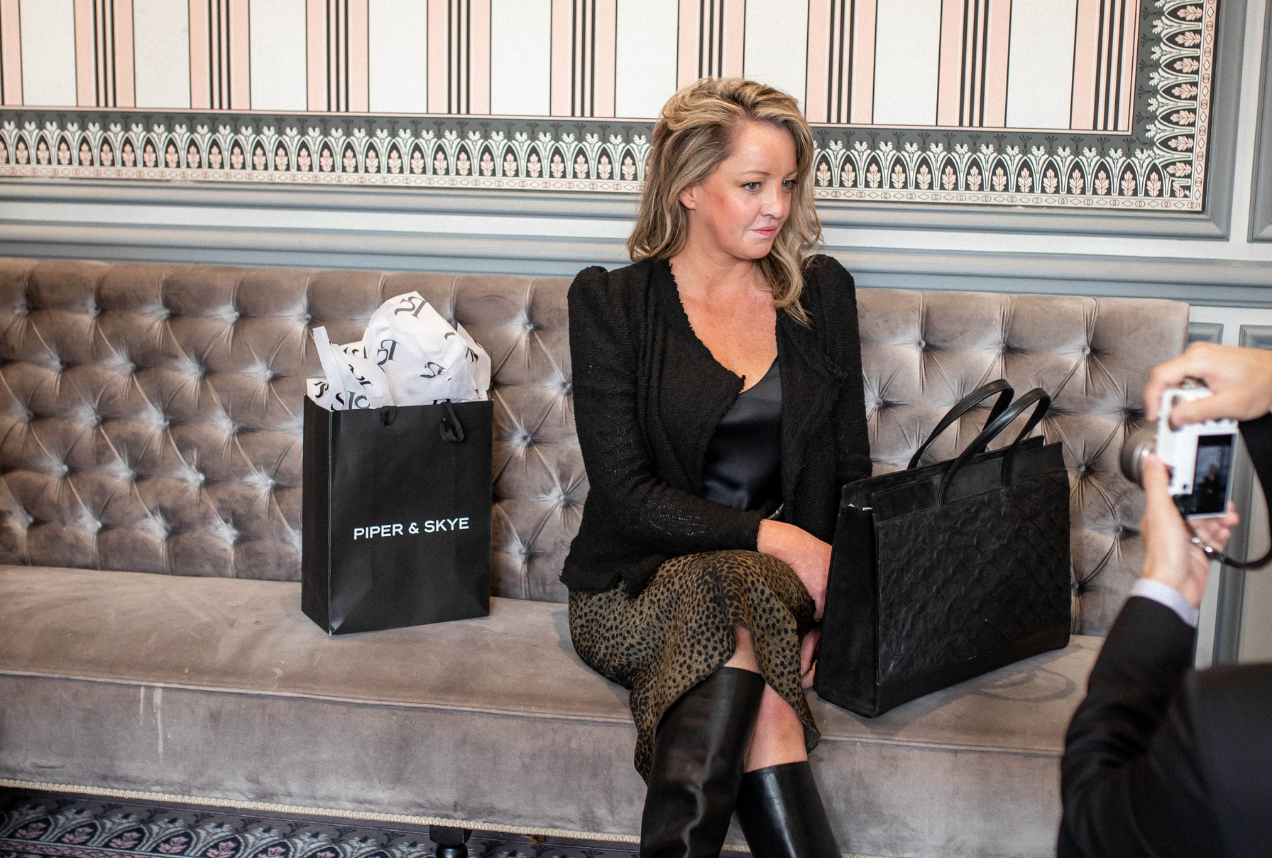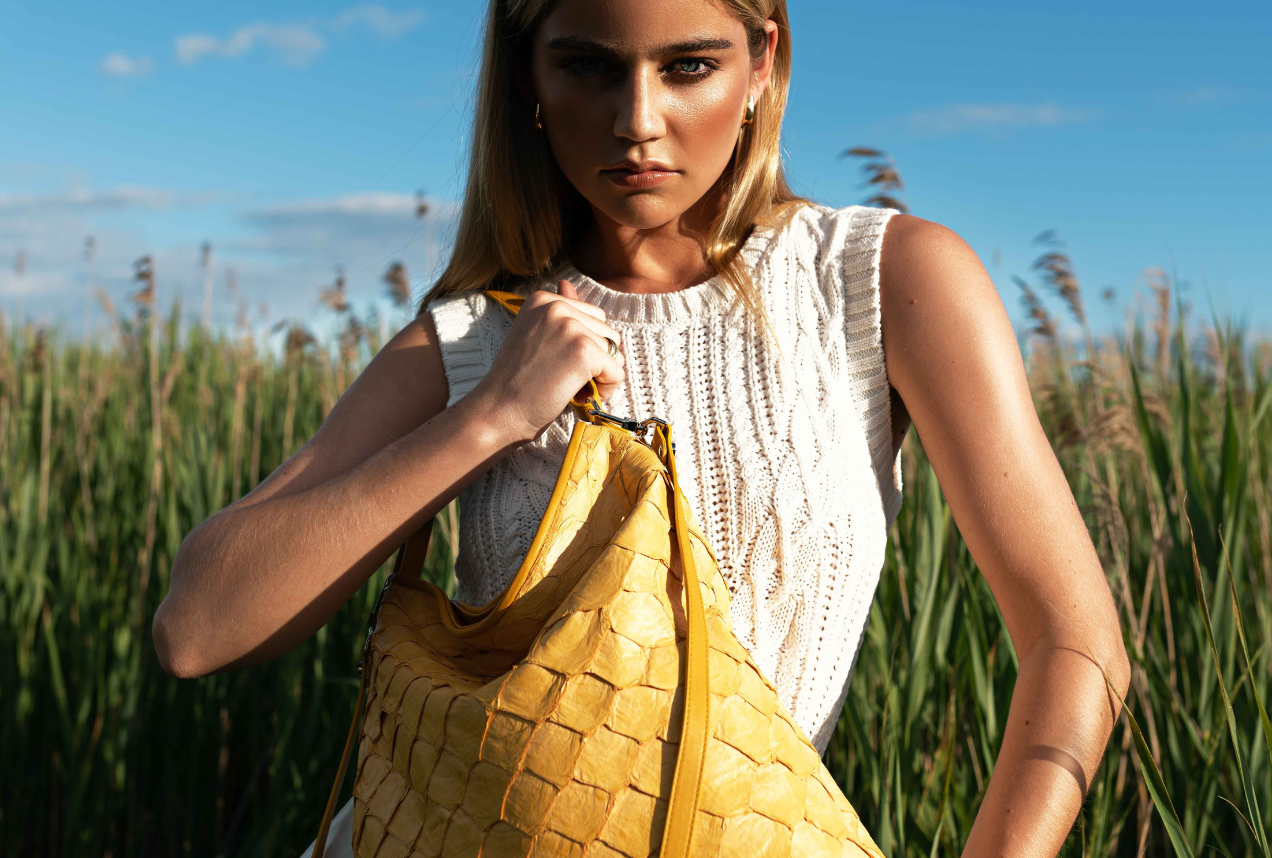 BUTTERFLY MARK TESTIMONIAL
The Butterfly Mark is a globally respected trust mark that visibly validates luxury brands on their commitment to sustainability through all areas of business. This stamp of approval sets Piper & Skye apart, and is an acknowledgement of the values Piper & Skye was built on: Respect, Responsibility and Community. Our work doesn't stop here. Since continuous improvement is one of our key imperatives, we are excited to leverage this esteemed network to build partnerships with other certified organisations and continue to educate our customers and connect stakeholders. We look forward to our ongoing working relationship with Positive Luxury, who will hold us to the high level of standards that are required to be granted the mark, but also challenge us to set the bar even higher. We believe we are stronger together - with the Butterfly Mark support system, we are confident that we will reach new heights, growing the collective consciousness and furthering our common objectives for ethical and sustainable business practices. We look forward to our ongoing relationship with Positive Luxury, who will help us to set and reach unforeseen accomplishments to have the best positive impact on our people and planet. Together with Positive Luxury, Piper & Skye looks to shatter the Sustainability Glass Ceiling. Piper & Skye, together with the Butterfly Mark community, is confident that the luxury goods industry will become a leader in the category of luxury fashion accessories.
JOANNA MACDONALD
FOUNDER
Case study
CLIMATE & CIRCULARITY
Piper & Skye has defined a three-stage process for understanding the carbon footprint of materials and products in order to set clear reduction targets. The first stage in this process has been to carry out carbon modelling for pirarucu leather, a fish skin used as the primary material in its products. The measurement of carbon emissions by product is the second, scheduled for completion in Q4 of 2023. Through third party audits and extensive comparison between bovine leather and pirarucu leather, the brand has concluded that the emissions profile is 12 times lower for pirarucu. To extend the lifestyle of products, Piper & Skye offers lifetime repairs. Used items are either donated to local charities or disassembled for useful parts to be reused in other products limiting waste generation whenever possible.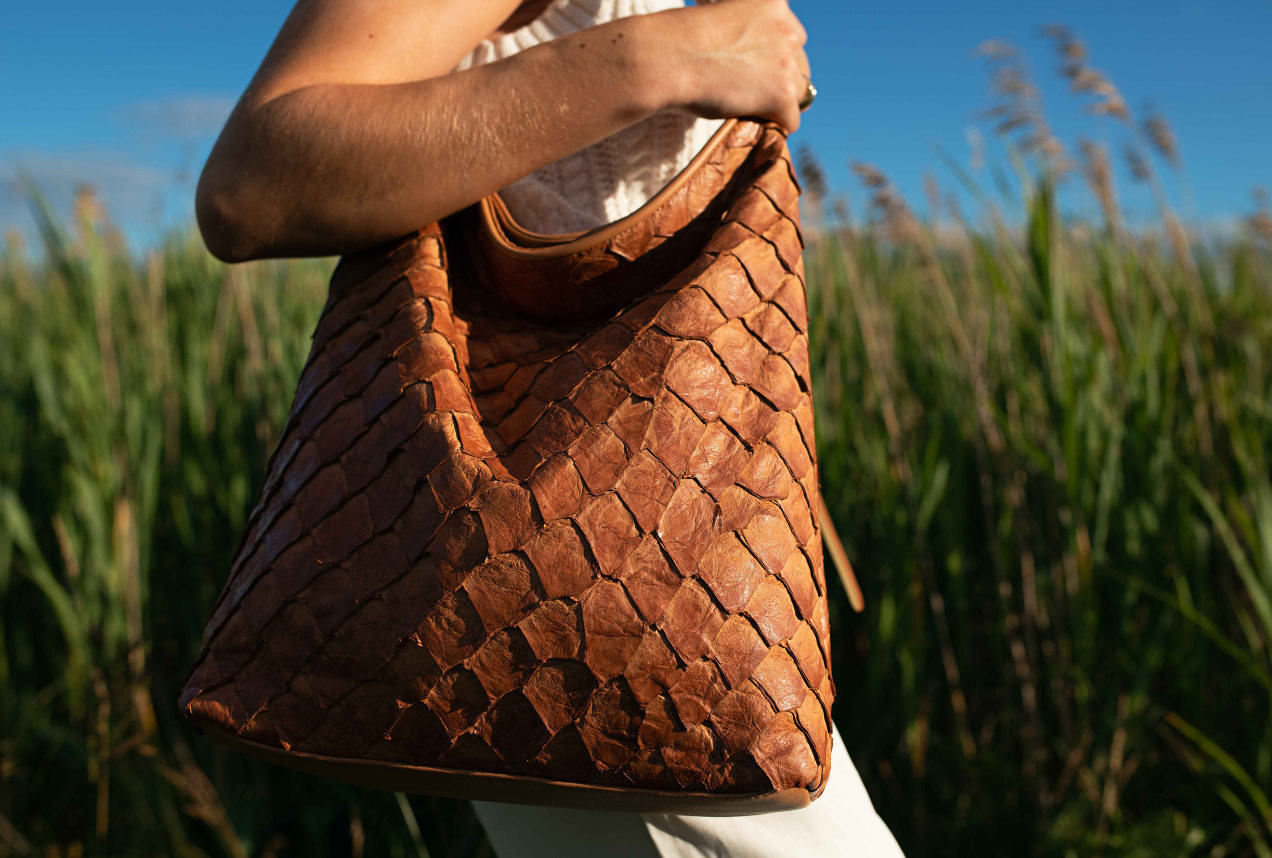 Case study
RESPONSIBLE SOURCING & BIODIVERSITY
Piper & Skye has implemented a thorough sustainable sourcing strategy focusing on material origins, animal welfare, circularity, biodiversity and chemical content of sourced primary materials. It operates under the framework of CITES to ensure use and trade in specimen of wildlife does not threaten the survival of the species. Invasive python and wild American alligator skins are used in collections, which helps to regulate and maintain healthy populations of these animal species and protect the surrounding ecosystems – as overpopulation of these invasive species endangers small mammal populations in the region. The tanning process is 100% free from chrome, nanoparticles, synthetic dyes and artificial fragrance, so water used in the process is not toxic and can be collected, pH balanced and used in irrigation. For its packaging needs, Piper & Skye chooses biodegradable, 100% plastic free and FSC certified materials.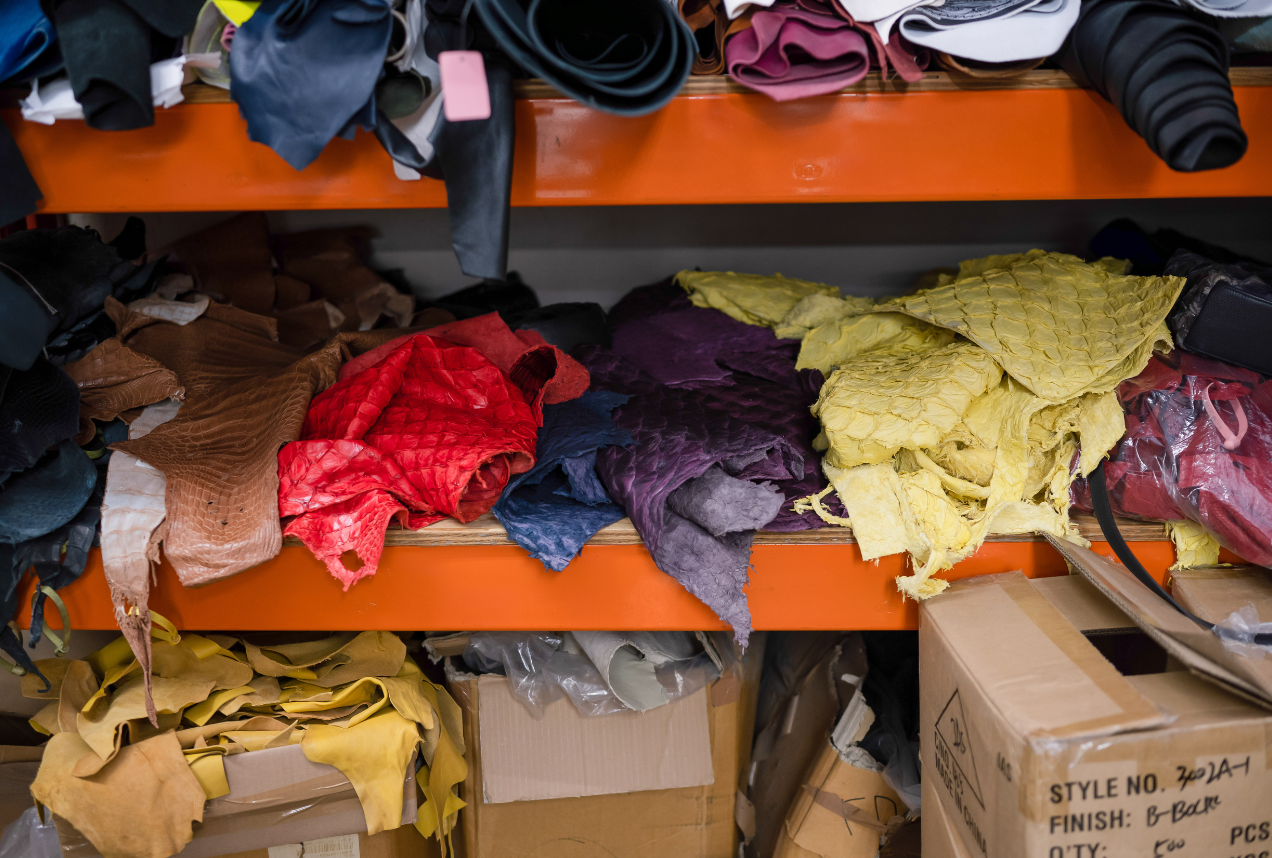 Case study
COMMUNITY INVOLVEMENT
Community support and empowerment is a key considerations for Piper & Skye. It donates a percentage of each sale to Safe Transitions, a non-profit that provides safe housing for survivors of domestic violence and human trafficking. It also implemented a crisis response donation programme that supported shelters across the country with masks during COVID-19 pandemic, and more recently necessary supplies for Ukraine war victims. Piper & Skye continues working with its main material suppliers in Brazil, supporting local fishermen communities by donating fishing equipment.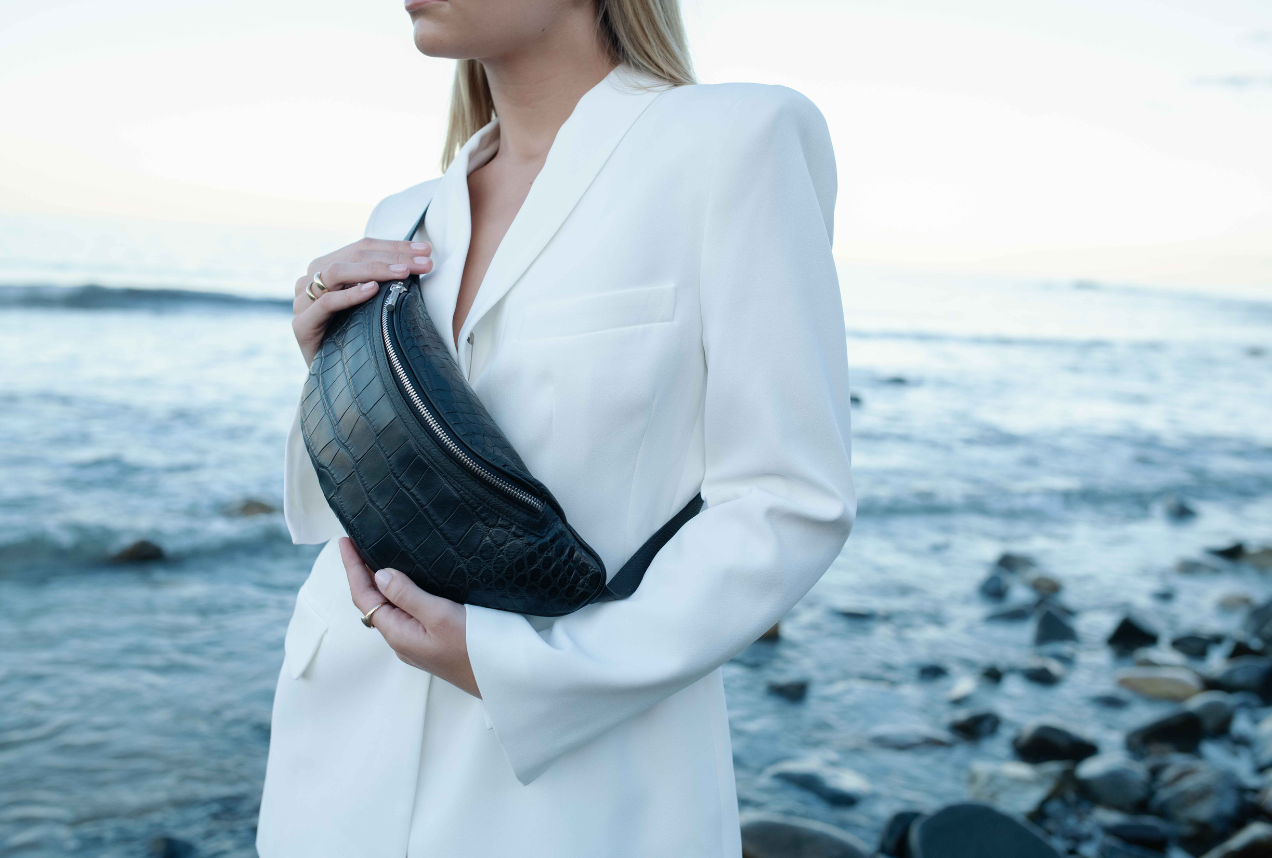 Case study
TRACEABILITY & TRANSPARENCY
Piper & Skye will continue to maintain and improve its transparency with suppliers as well as other stakeholders including consumers by openly displaying sustainability standards, policies and criteria on the company website. Piper & Skye is taking a position of leadership, collaborating to accelerate sustainable procurement, share knowledge and build capacity across sectors through industry partnerships and membership programmes with CBSR, and events such as the WEAR Conference hosted by Fashion Takes Action. It has obtained a LWG brand membership and works with a supplier that is ISO 9001, ISO 14001, ISO 50001, ISO 14025 certified and continues their work to align with suppliers that have obtained sustainability certifications.