< Back
BEAUTY & FRAGRANCE
IGNAE
Ignae is a clean beauty plant-based biotech skincare brand from the Azores. They develop their own proprietary ingredients by applying the latest innovation in biotechnology. Powered by science, Ignae sustainably harness nature's goodness to create high-performance products focused on cellular regeneration.
SUSTAINABILITY PURPOSE
Ignae conduct their own R&D focused in developing proprietary ingredients based on the rare and diverse bio-ecosystem found on the Azores. They leverage the latest in biotechnology to develop new ingredients based on the principles of synthetic biology with high performance ingredients that can be sustainably manufactured in the laboratory. They embrace principles of green chemistry and use biotechnology in order to have a minimal impact on the beautiful, unspoilt archipelago. To avoid the intensive use of the natural botanical and marine resources, Ignae have created their proprietary clean and advanced liposomes and supercritical extraction technologies that require only small quantities of plants and algae to deliver high performance results. Their EPC Factor® allows them to reduce, sometimes by more than a 100-fold, the amount of natural resources otherwise needed, ensuring a sustainable relationship between ignae and the delicate environment around it.
A WORD FROM THE CO-FOUNDERS
We've seen the trend in the beauty market for clean & vegan skincare products. Ignae goes the next step by using biotechnology innovation to create results driven skincare products while simultaneously using the same innovation to drive sustainability. Nature and Science is at the heart of the brand. The volcanic mineral and pristine ingredients we use from the Azores are rare and authentic luxury. With ignae's patent-pending EPC Factor® Complex , we need 100 times less biomass to deliver an even more powerful product that is able to penetrate into the deepest layers of the skin. We use biotechnology to enhance the healing powers of ingredients found in nature
MIGUEL POMBO & CLAIRE CHUNG
CO-FOUNDERS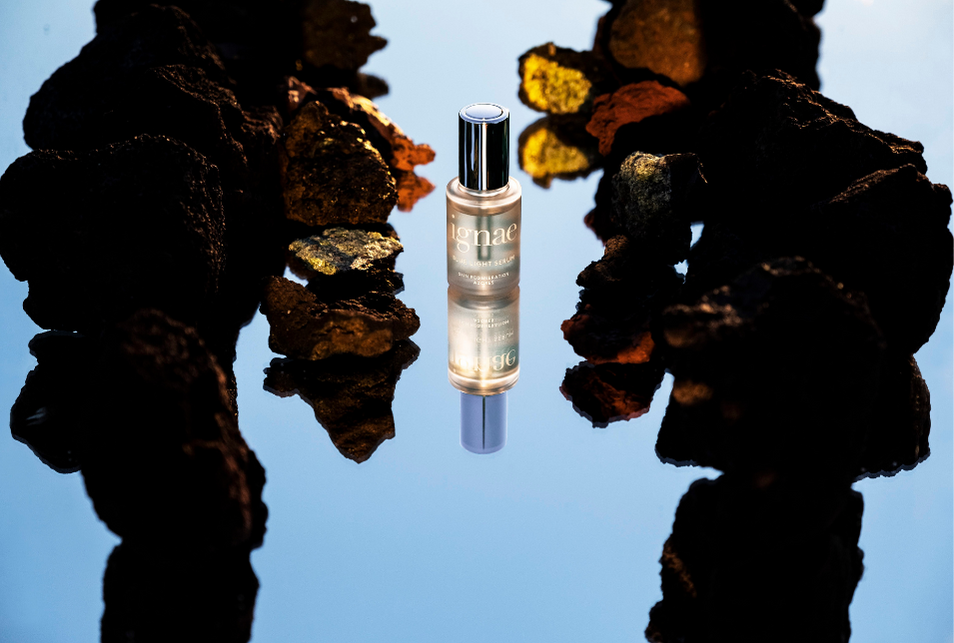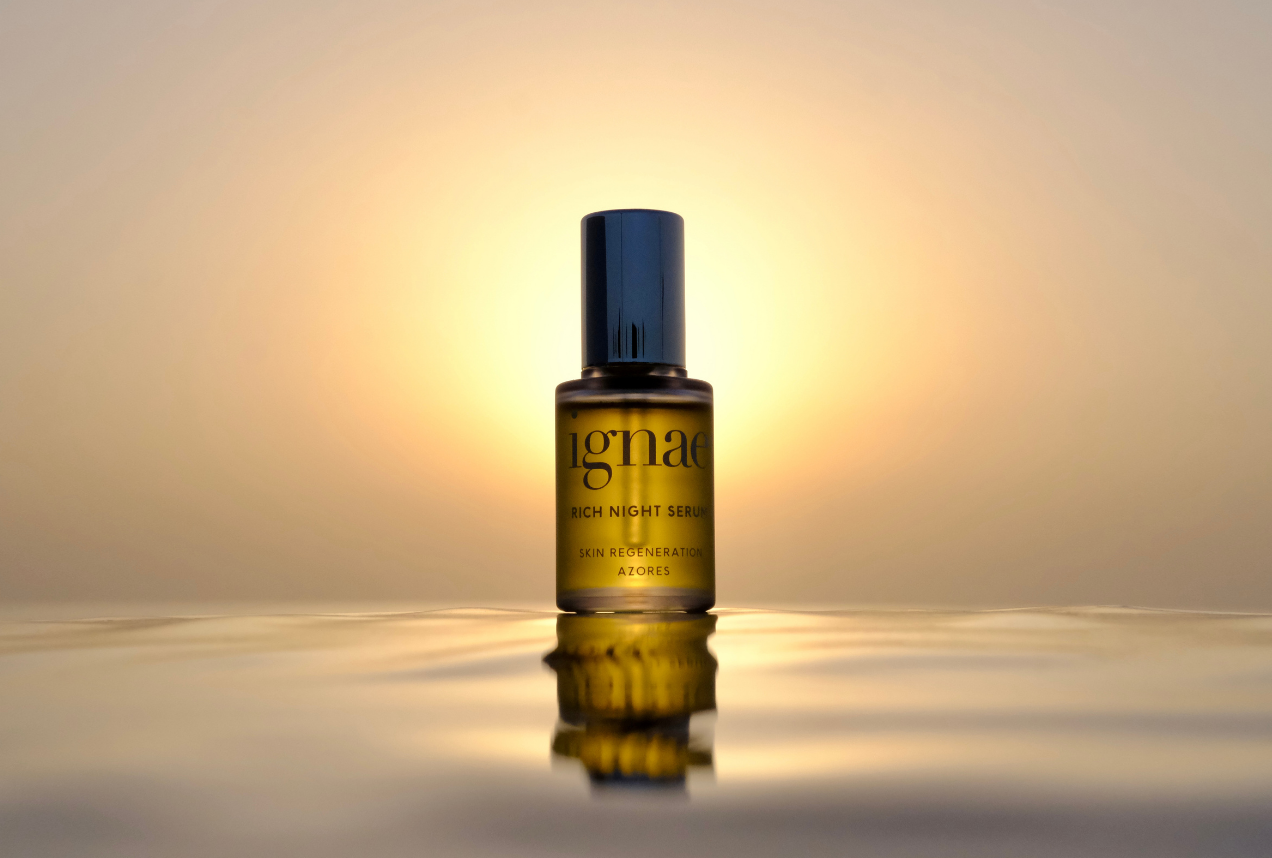 BUTTERFLY MARK TESTIMONIAL
Ignae represents a new generation of luxury and conscious brands where sustainability & ESG is a key driver of our core values, it's important to have the guidance and metrics to learn how to build a company and brand to scale. We are so grateful to benefit from the knowledge of Positive Luxury team to learn and constantly improve. It's only in the collective that we can truly make an impact and building a new generation of companies and disruptive brands can move faster and be more agile to innovate as we did with the creation of our EPC factor
CLAIRE CHUNG
CO-FOUNDER & CEO
Case study
SOURCING & MATERIALS
All of Ignae's main ingredients are sourced locally from The Azores and its many trees, plants, flowers and algae whilst ensuring the preservation of the surrounding ecosystems. Raw materials are "wild harvested" under strict SFC (Sustainable Farm Certified) practices while innovative supercritical extraction technologies require only tiny quantities of plants, algae or other species to produce high performance results ensure biodiversity preservation and healthy plant regeneration. 100% of thermal water used in product manufacturing is sourced from a local regenerative geothermal hot spring. All of the brands products are plant based and cruelty free. Also, in 2022 Ignae implemented a supplier code of conduct to ensure conformity to sustainability standards by their key suppliers and subcontracted manufacturers.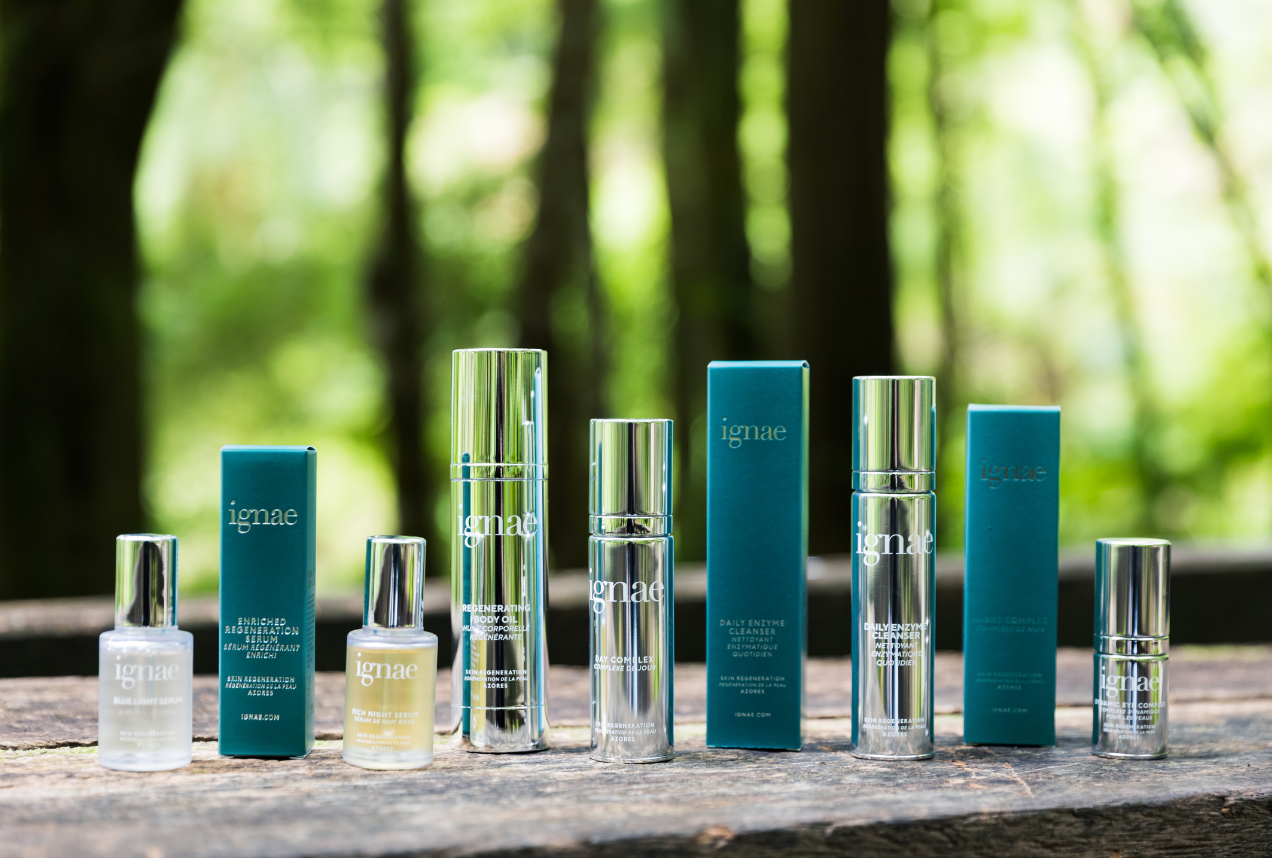 Case study
INNOVATION
Ignae is pioneering green chemistry, biotechnology, research and ingredient development in the Azore islands. Ignae's EPC Factor® liposomes act as a delivery vehicle that can carry algae and plant extracts into the deepest layers of skin to regenerate and repair damaged cells. All of their formulations are biodegradable and do not pose any risk to the environment during or after use. In 2024 the brand is looking to develop three more ingredients with algae. Ignae is powered by Azores Life Science, it's own R&D platform that is leading in the study of extremophile bacteria sourced from the Azores and developing novel new ingredients via expressive biology.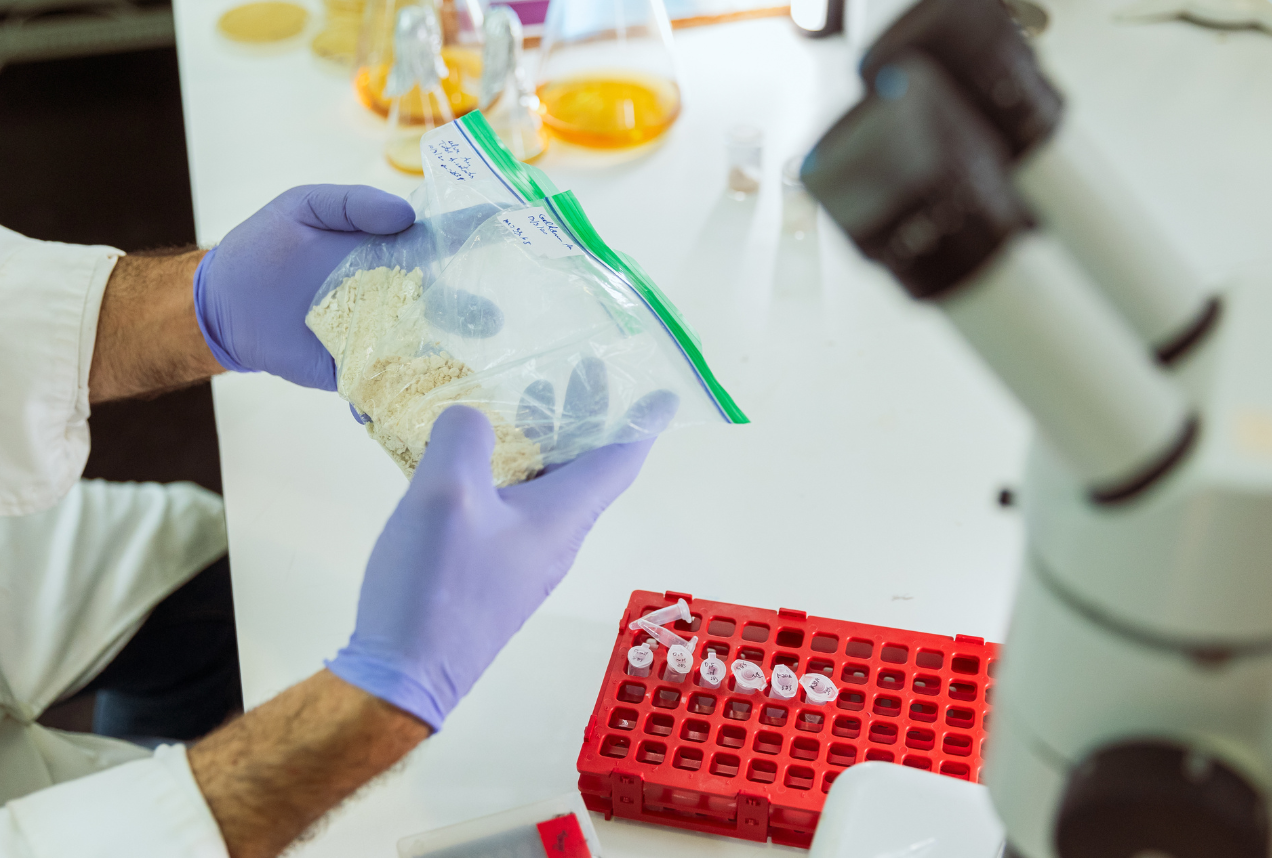 Case study
PACKAGING & LOGISTICS
In 2021 Ignae transformed its packaging from all plastic formulation containers to 100% recycled primary product packaging with aluminium. All secondary product packaging is made of FSC certified paper and is also recyclable. Additional product accessories include business brochures which are made of recycled paper and bound together by thread to ensure ease of item recycling. Additionally, Ignae has set bold targets to reduce its transit packaging by up to 25% and phase out all remaining plastic from its product packaging upstream and downstream by 2030. Through partnership with TNT (FedEx) Ignae can ensure sustainable shipping and distribution of its products through fuel efficiency, use of electric vehicles, route optimisation systems and other responsible shipping techniques.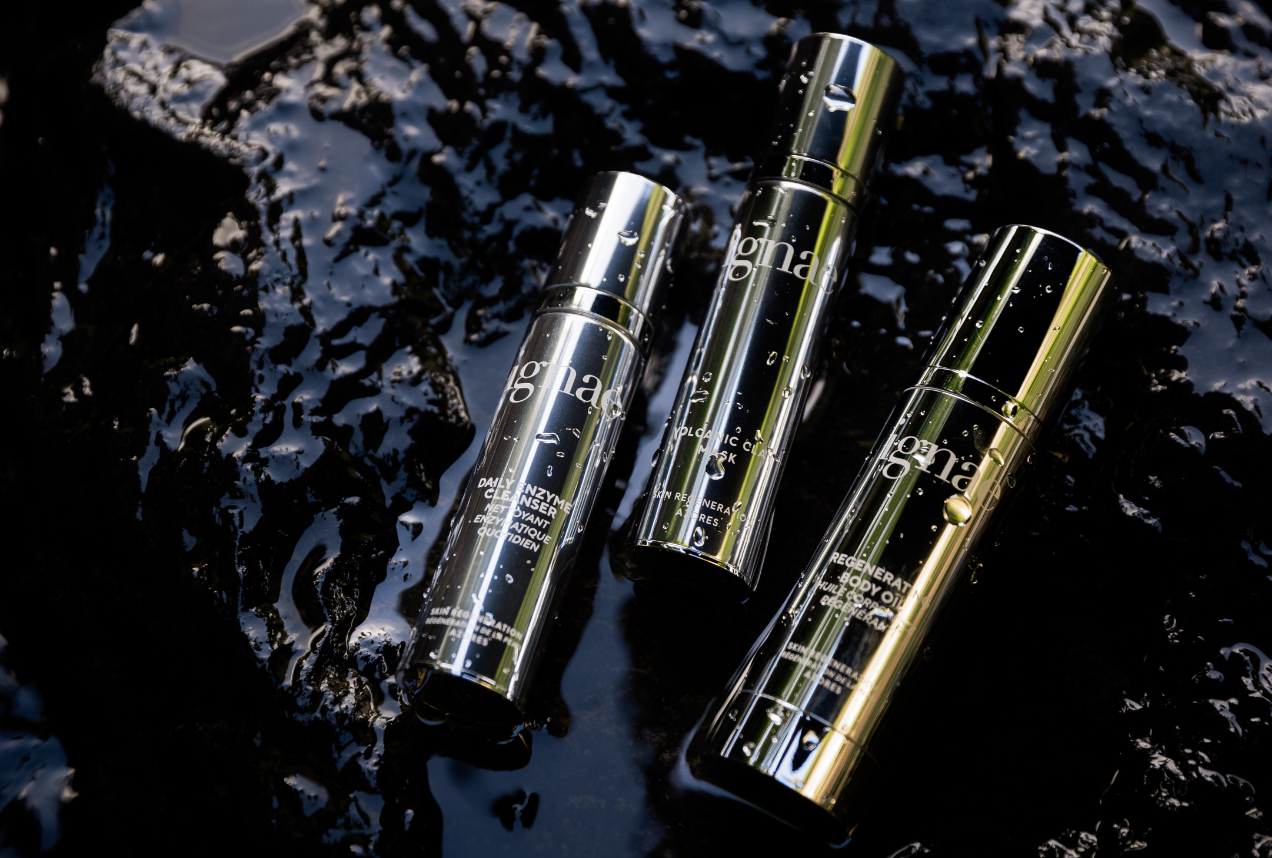 Case study
COMMUNITY & PARTNERSHIPS
Azores Life Sciences launched in 2012 on a mission to conduct research on extremophiles and develop novel and sustainable high-performance ingredients for the cosmetic industry. Ignae was born in 2017 as a pioneering brand of Azores Life Sciences with support from the community Young Entrepreneurs grant. Today, Ignae continues to give back to the community and foster the development of skills required to continue the islands trajectory of research. The brand also has partnerships with a number of community initiatives such as with Ocean Co, working to reduce ocean plastic, restore ocean health and improve livelihoods of coastal communities globally. For 2022, Igane's impact meant 700kg of plastic was removed from the ocean.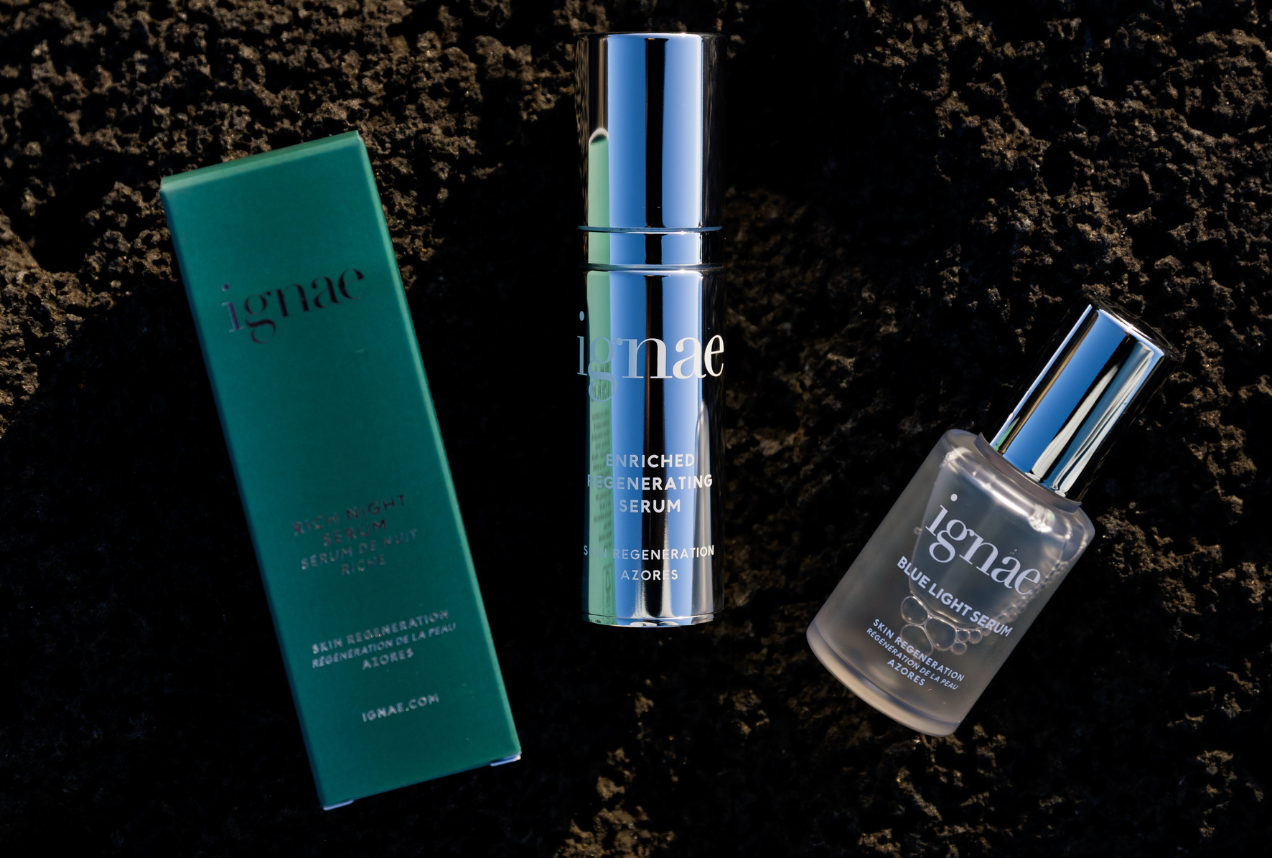 WHERE NEXT?
Through their R&D platform, Ignae will continue to pioneer in developing new ingredients. Their next innovation will be in using their Biobank to transform biomass waste into high performance, high value novel ingredients.