< Back
BEAUTY & FRAGRANCE
IRENE FORTE SKINCARE
Characterised as 'Natural Science' Irene Forte Skincare combines outstanding fragrance and feel with low allergenic potential and proven effectiveness.
SUSTAINABILITY ETHOS
Irene Forte Skincare is committed to ensuring that their processes and products are as sustainable as possible. Passionate about provenance, each product in the line is created with ingredients grown on their Organic Farm in Sicily. All ingredients are certified vegan, and they have also integrated upcycled ingredients. All aspects of production are kept in Italy. Their boxes are made out of 100% recycled fibres. Many of their bottles are refillable, and they have partnered with First Mile to recycle the refills, giving them a second life. They have partnered with The Lady Garden Foundation, a women's gynaecological health charity.

Distribution
UK, EU, USA and Hong Kong
A WORD FROM THE FOUNDER
At Irene Forte Skincare, we believe beauty is more than skin deep. Our company's existence is part of a much wider system of people, nature and other organisations, and we're committed to ensuring that our processes and products are truly sustainable and ethical at every stage of their lifecycle.
IRENE FORTE
FOUNDER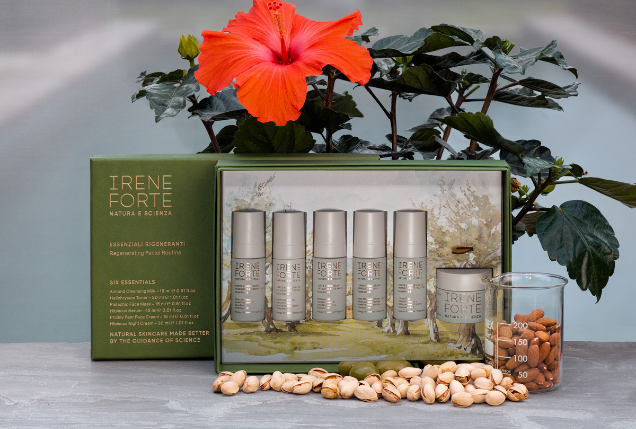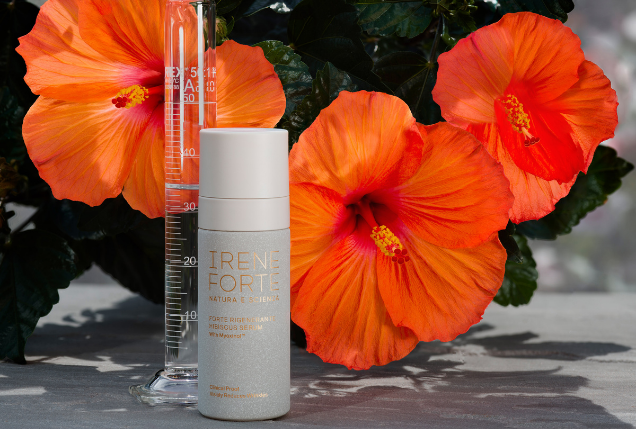 BUTTERFLY MARK TESTIMONIAL
Working with Positive Luxury and the Butterfly Mark have been incredibly valuable to us. I always say sustainability is a journey and one is never 100% sustainable; by providing us with a framework and constant support, Positive Luxury has helped us find ways in which we can always improve. The Butterfly Mark has given us credibility with both our customers and partners. We are proud to be a part of a dedicated and inspiring community that shares the same social and environmental standards and vision.
IRENE FORTE
FOUNDER
Case study
VEGAN & UPCYCLED INGREDIENTS
Irene Forte Skincare recognises their responsibility towards sustaining local communities. Where ingredients cannot come from their organic farm in Sicily, they are sourced from neighbouring areas in Sicily or from reputable farmers in the Trentino region. The brand ensures that their ingredients come from crops that are not over-farmed or treated with harmful pesticides. Integrating zero-waste upcycled ingredients, made from nutrient-rich plant-based leftovers ensures all their ingredients are vegan. Irene Forte Skincare strive to understand and protect nature and are strongly opposed to harmful ingredients, such as mineral oil and plastic microbeads. Using only what is necessary, all products use naturally derived alternatives to synthetic colours and preservatives, and harsh surfactants.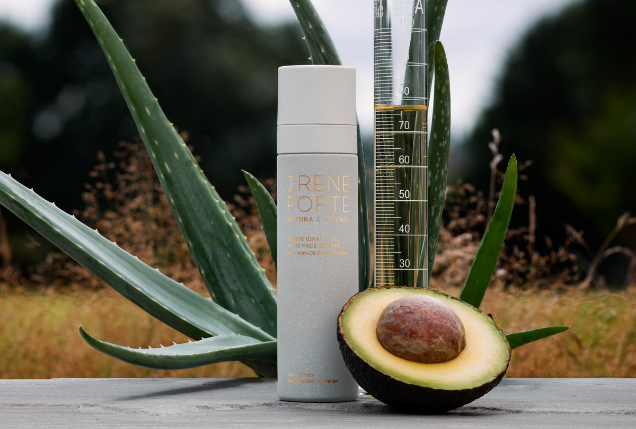 Case study
REFILLABLE & GREEN PACKAGING
The cosmetic industry is the biggest user of single-use plastic. 'Zero Waste' reported that more than 120 billion units of packaging are produced every year by the global cosmetics industry, most of which are not recyclable. Irene Forte Skincare are doing what they can to minimise their contribution to the crisis by maximising the use of sustainable packaging. Their boxes are made out of paper with 100% recycled fibres and only use vegetable-based inks. Their inner boxes are also 100% recycled fibres with a watercolour painting of their organic farm painted by an artist based in the North of Italy. Their spatulas have been created by hand by a carpenter based in Puglia, using sustainable Italian olive wood. Their bottles and jars are recyclable glass, where up to 31% of each glass product is made from PIR (Post Industrial Recycled) material. Many are refillable with a replaceable inner component. The refill component can be recycled once used through the brand's recycling programme in partnership with First Mile (a QR Code on the box explains next steps). First Mile recycles the refill, shredding it into flakes, which are then converted into plastic pellets to make new plastic products for things such as car parts and pipes, giving it a second life. For the non-refillable products, the lids and pumps can also be recycled via the First Mile programme.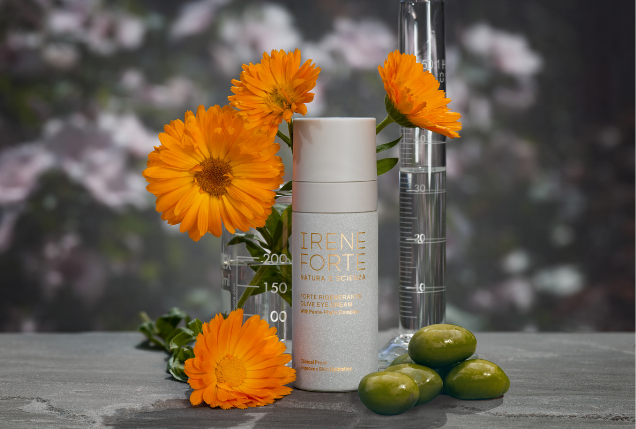 Case study
COMMUNITY INVESTMENT
Irene Forte Skincare support local artisans who create their display materials, tools and special gift packaging. Sicilian ceramics are featured in all the brands luxury spas, where they use ceramic trays, inhalation bowls and foot bowls, as well as traditional Sicilian painted tiles. In all retail stores, Irene Forte Skincare use ceramic cubes decorated by hand with Sicilian designs to display their products. These ceramics are all created by Toni Gurreri in Sciacca, a coastal town in Sicily which is a 15-minute drive from their organic farm. The brand use hand-plaited Sicilian 'coffe' as gift packaging, made from sustainable palm wood fibres and recycled fabrics. Sicilian hand-made bells start and end all spa treatments, and they use volcanic stones gathered from Sicily's Mount Etna in many of their treatments. Their new box liners have been painted by a retired artist based in Northern Italy, while their spatulas are made by a carpenter based in Puglia using Italian olive wood. Irene Forte Skincare have partnered with the Lady Garden Foundation, which aims to raise funds to extend and improve gynaecological health' and arm women and girls with the knowledge they need to break down the taboos that surround the topic. £1.50 for every Pomegranate Hand Cream sold globally is donated to the charity. As a next step, the brand is working on creating a 'social farm' at Verdura that will allow children with autism and older people to engage with the farm and enjoy its natural environment.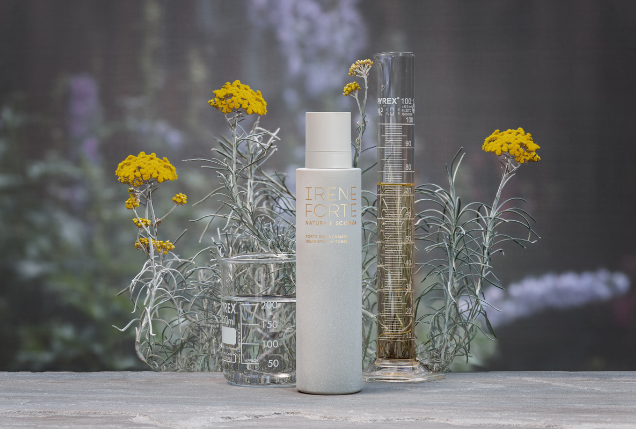 WHERE NEXT?
They have recently launched their charity partnership with The Lady Garden Foundation, which aims to raise funds to extend and improve gynaecological health; and arm women and girls with the knowledge they need to break down the taboos that surround the topic. £1.50 for every Pomegranate Hand Cream sold globally is donated to the charity. Additionally, all 30ml and 50ml products will be refillable by mid-2022. They have calculated their carbon footprint and have the Carbon Footprint Standard Accreditation; they are now working towards becoming carbon neutral by 2030. Other prospective projects include a water equal scheme and the establishment of a social farm in Verdura.