< Back
JEWELLERY & WATCHES
REFRAMED JEWELLERY
Born in Los Angeles and currently nestled in the heart of London, Reframed Jewellery is a luxury brand that curates dainty pieces with superior designs. The brand was born out of a passion for fine craftsmanship and a desire to inspire people to live boldly and dare to follow their dreams against all odds. At the core of reframed jewellery is a commitment to premium craftsmanship. We flaunt an array of fine jewellery to cater to the needs of the fashion-conscious individual. Abiding by our ethos of expressing individuality as the strength of your character and the courage it takes to reach for your dreams, our pieces are bold with understated elegance and most of them are one of a kind.
SUSTAINABILITY ETHOS
Almost all of Reframed Jewellery's pieces are made entirely by hand, and most of them are one of a kind. It take care to only use diamonds and gems that are sourced from other local small businesses, I work with people who are mostly now based in the UK, and my entire new production is locally based, I don't produce many pieces as I prefer to focus on quality rather than quantity. For my new collection I have recycled old pieces into new pieces by adding to them, I'm planning to re use the gold for future collections and to be able to make old pieces new again. The suppliers I work with are people like me who are small business owners. The diamonds I use for my pieces have all been purchased under the Kimberley process and can be traced.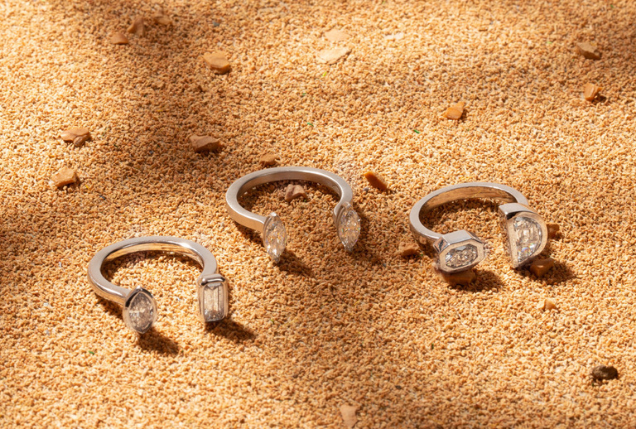 BUTTERFLY MARK TESTIMONIAL
I have decided to go through the assessment process, as I see how the world around us is changing and moving, we are all worried and concerned about the future, as a mother of three I worry about the challenges they will have to face when they grow up, in many aspects of their lives, as a jewellery designer I believe if I show my children that I can move Reframed Jewellery into becoming a sustainable brand and support my ideas and move towards it with an assessment, it will show not only my children but others as well, that it is possible to move luxury into becoming better for the world we are leaving in. I know many designers have had that approach many years ago, but I believe it is never too late and if more and more small businesses turn towards sustainability it can only bring positive and clever moves to future generations.
KINDA BAASIRI-MOUAWAD
FOUNDER